CoLabART - Lynn Small + Dennis Paul
ENVIRONMENTAL ACTIVITIES

TO RETURN TO THIS PAGE WHEN FOLLOWING THE LINKS BELOW
USE BROWSER BACK ARROW OR BOOKMARK THIS PAGE

1982
"now possible to paddle a canoe down much of the river" - NYTimes-9.25.1988

1978


LOVE CANAL: BLUEPRINT FOR A DISASTER

20033
25th Year Commenorative

Remembrance Narrative

+
StrangeLove, Earth Elegies V
A WorldWide Environmental Confession


2018
A STRANGE KIND OF LOVE
40th Year Commenorative Project

In the fall of 1978, we felt compelled to leave the bulcolic, creative environs of Yaddo, one of this country's most prestigious residency fellowship programs just days after setting up our studios in what had been the writer Carson McCullers' beloved Pine Tree Cottage to travel to the Niagara Falls area outside Buffalo NY to meet with Lois Gibbs and the Homeowner's Association. On the occason of the Thirtieth Anniversary of the environmental disaster known as Love Canal - the poisoning of an American community that ushered in the beginning of the modern environmental movement - artwork from our Love Canal portfolio has been included in an important and timely exhibition, curated by Adolfo Nodal, The Future of Nations: Citizen Artists Making Emphatic Arguments at the 18th Street Arts Center in Santa Monica, CA, which then traveled to Tijuana and inaugurated La Casa Del Tunel Cultural Center. Simultaneous with this exhibition, we launched the online worldwide Environmental Confession Project below to commemorate the tragedy of Love Canal and the rising hope and expectations regarding the growing awareness of our stewardship of the Earth.
CoLabART is a creative entity borne of the thirty-year collaboration between painter Lynn Small and photographer Dennis Paul. Their group installation projects link spirituality to environment. In 1978, they produced a landmark work titled: A Strange Kind of Love, Love Canal: Blueprint for a Disaster. This seminal work in the area of art and ecology was focused on Love Canal, the Upstate New York environmental catastrophe that woke up America to the threat of industrial ecological contamination and became the beginning of the American environmental movement. This project revealed the link between the origin of mysterious illnesses among residents of Niagara Falls in the 1970s in Upstate New York, and toxic chemical seepage. CoLabART's work exhibits a lifelong commitment to environmental justice and to otherwise helping the world with remarkable gumshoe work.

Adolfo V.Nodal, Curator -The Future of Nations – Part III
Citizen Artists - Making Emphatic Arguments

18th Street Arts Center, Santa Monica, California
July 12 - September 13, 2008

La Casa Del Tunel Art Center, Tijuana, Mexico
– Inaugural Exhibition - Fall 2008


Our Tapestry of Hope poem - one of the earliest pieces of interactive literature on the Internet 1994
- an ode to our individual responsiblity for the Earth's future well being

2003
25th Year Commenorative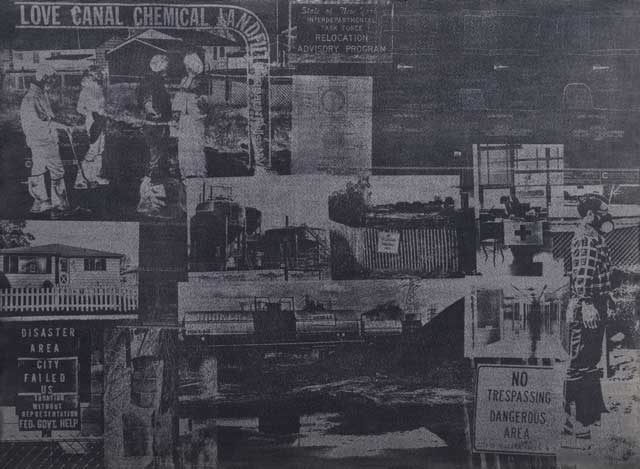 StrangeLove, Earthly Sins
Earth Elegies V
A WorldWide Environmental Confession Project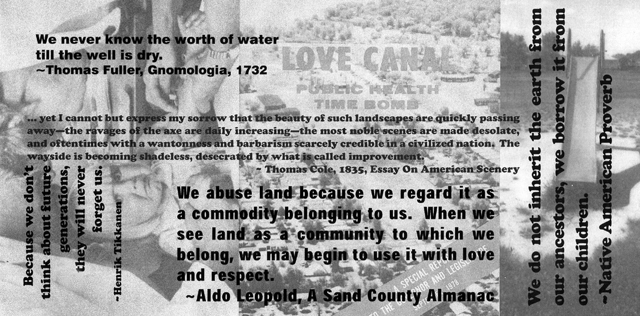 Project Invitational HandOut
Available in English + Spanish
Other Languages to Follow

2008
30th Year Commenorative

Participated in the Orange County Interfaith Coalition for the Environment (OC-ICE)
Caring for Creation Conference
held at California's first LEED certified church complex
St. Mark Presbyterian Church, Newport Beach
The keynote speaker was environmentalist Bill McKibben
author of the pivotal work "The End of Nature" and scholar-in-residence at Vermont's Middlebury College

As part of our closing presentation, we showed a media work in progress
Love Canal - A Strange Kind of Love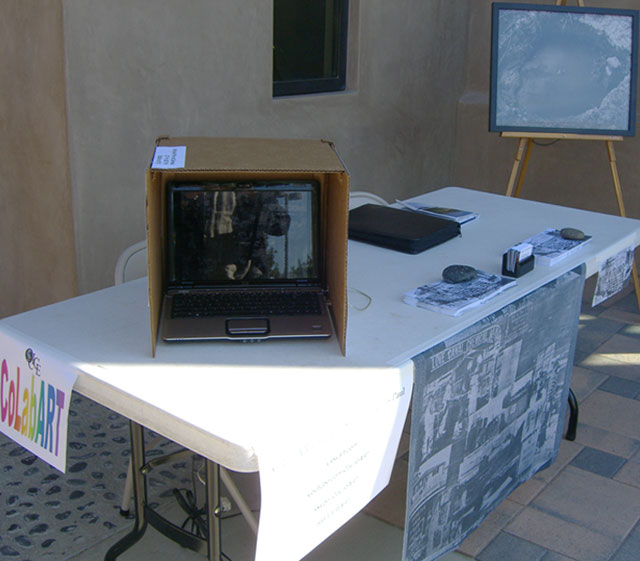 OTHER WORK + SERVICES TO THE ENVIRONMENT FIELD:


1978

Documentation of the GE Toxic PCB Site, Glen Falls, NY
Poisoning of the Hudson River


Early Morning on the Hudson
Calotype (paper negative)
Yaddo 1978


1978 - Current

Continuing The Sense of Place Dialogue
Documentation of the vanishing American Landscape
from Satellite Imagery to the Earth's surfaces and things introduced into the web of life


OverLook, Hudson RiverValley
"What see you when you get there?" asked Edwards.
"Creation!" said Natty..."all creation, lad."
Pioneers
JAMES FENIMORE COOPER




1988-90

Hudson River Photography Annual

Coordinated the development of this no fee, all accepted exhibition
moving each year to varied venues along the Hudson River Communities
as part of Pete Seeger's Clearwater clean-up movement
and designed/co-ordinated the installion for the first four annuals,
while training the volunteers
Also obtained support and prizes from Kodak, Pentax and others
as well as a pro bono 6-color poster from Morgan Press


1988 Entry



1989 Entry



1990 Entry


TO VIEW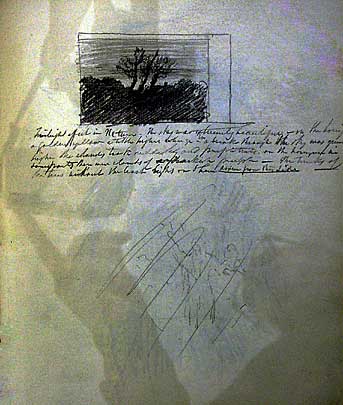 KAATERSKILL FALLS
in 1995 code

917.238.7638
310.741.0474

skype CoLabART


©1993-2023 - CoLabART - Lynn Small + Dennis Paul
All rights reserved.