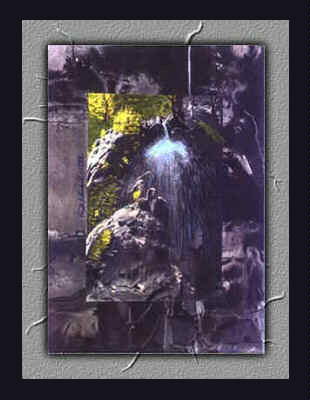 D.PAUL/SMALL
ALONG THE PALISADES - PEANUT'S LEAP 1988
HUDSON RIVER/WATERFALL SERIES
Mixed-Media Maquette
30"H x 24"W
Archival Pigment Print Available



"It falls by no rule at all; sometimes it leaps, sometimes it tumbles; there, it skips; here, it shoots; in one place 't is white as snow, and in another 't is green as grass; hereabouts, it pitches into deep hollows, that rumble and quake the 'arth; and hereaway, it ripples and sings like a brook, fashioning whirlpools and gulleys in the old stone, as if 't was no harder than trodden clay. The whole design of the river seems disconcerted. First it runs smoothly, as if meaning to go down the descent as things were ordered; then it angles about and faces the shores; nor are there places wanting where it looks backward, as if unwilling to leave the wilderness, to mingle with the salt!"
THE LAST OF THE MOHICANS
James Fenimore Cooper




©1993-2023 - CoLabART - Lynn Small + Dennis Paul
All rights reserved.