L Y N N S M A L L
• Paintings •

I always begin a painting wih a blank canvas and not any
preconceived idea of what it's going to look like.
I just sort of react. I can't predict it, so I let the
materials suggest the next step and then take it from there.
It's a process of letting a painting talk to you.
I want a painting to take me to a place I've never been.
—Emily Mason: A Painting Experience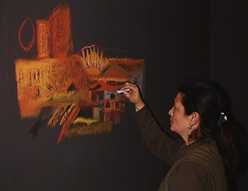 This world is but a canvas to our imagination.
—Henry David Thoreau

Golden Light—California Series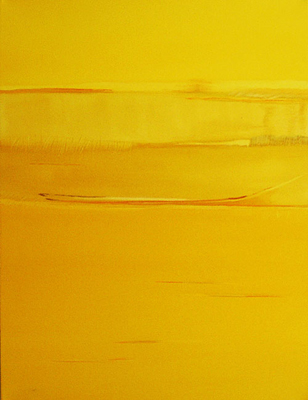 Untitled, Golden Light
California 2011
Mixed-media on Canvas
36"H x 28"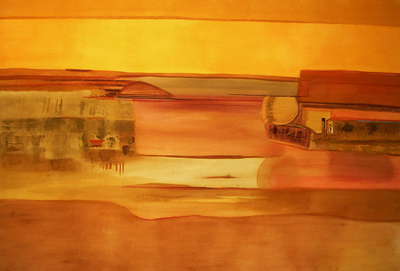 Autumn Light II
Yaddo 2003
Mixed-media on Canvas
72"H x 96"W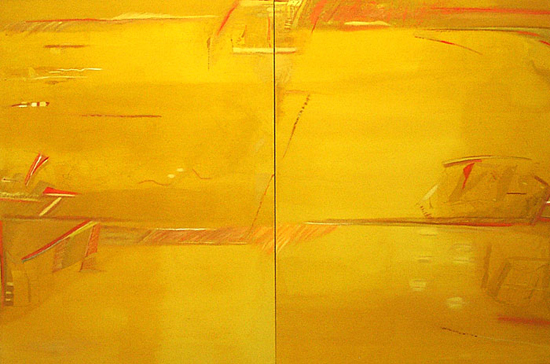 Golden Light Diptych
California 2003-04
Mixed-media on Canvas
40"H x 60"W
[40" x 30" each panel]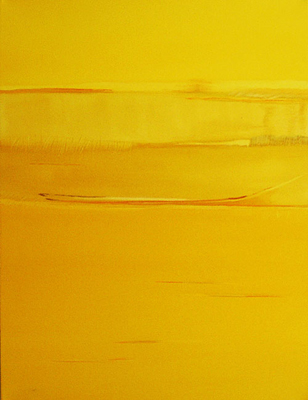 Golden Light II
California 2003
Mixed-media on Canvas
42"H x 32"W


I think I'm beginning to learn something about it [painting].
—Pierre-Auguste Renoir, age 78


Landsat—Earth Series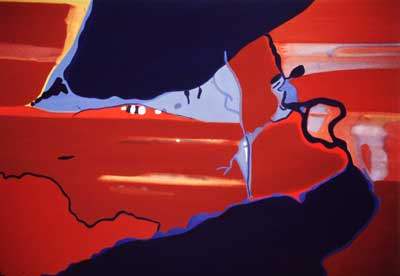 Niagara
Landsat Earth Yaddo 1978
Mixed-media on Canvas
54"H x 72"W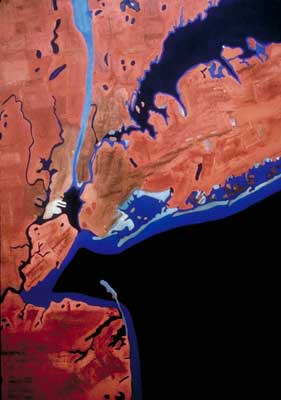 New York City and Vicinity
Landsat Earth 1979
Mixed-media on Canvas
48"H x 36"W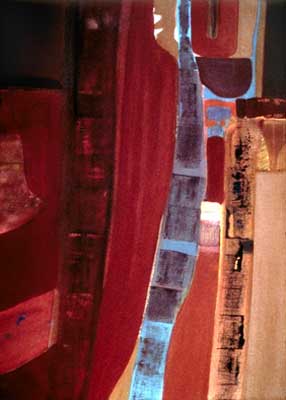 Pennsylvania Dutch
Landsat Earth 1979
Mixed-media on Canvas
48"H x 36"W


Painting is another way of keeping a diary.
— Pablo Picasso


Earth Stains Series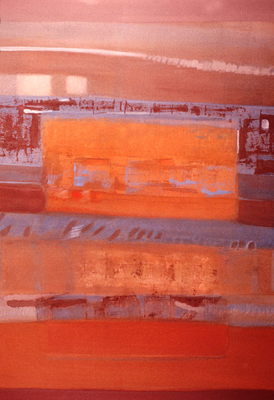 Untitled [Orange]
Earth Stains 1978
Mixed-media on Canvas
48"H x 36"W




Untitled [Waterfall]
Earth Stains 1977
Mixed-media on Canvas
36"H x 48"W


Mexican Series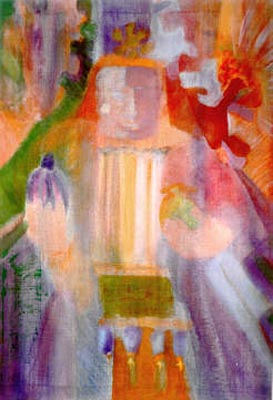 The Offering
Cuernavaca 1974
Mixed-media on Linen
68"H x 44"W
Mexican Series


I am not sick, I am broken…but I am happy to be alive as long as I can paint…
—Frida Kahlo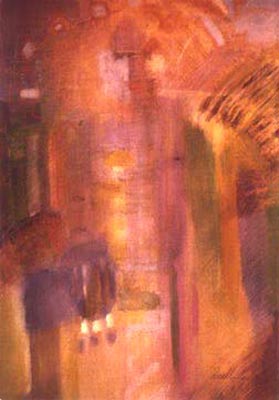 The Prince
Cuernavaca 1974
Mixed-media on Linen
42"H x 34"W
Mexican Series
Works From Spain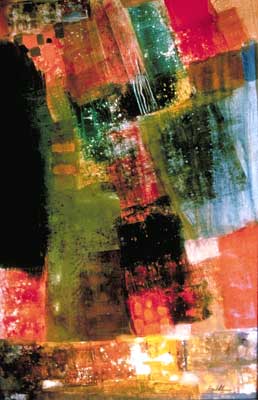 Sensations
Nerja, Spain 1972
Earth Stains
Mixed-media on Canvas
48"H x 36"W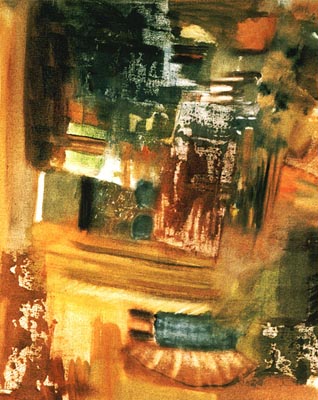 Earth Stains I
Nerja, Spain 1972
Mixed-media on Canvas
30"H x 26"W


New York University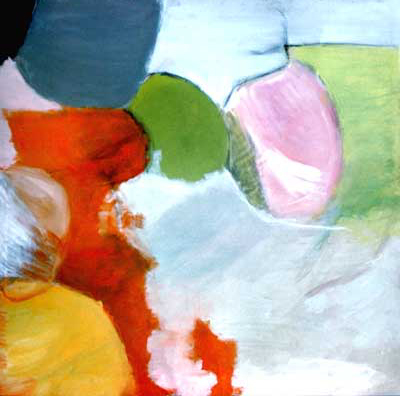 Fallen Rock Zone
New York 1968
Mixed-media on Canvas
60"H x 52"W


My art practices were both formal and experimental – beginning at the High School of Music and Art, then at New York University and later at the Art Student's League. Working within abstract and semi-abstract concepts emerged early—influenced by the first and second generation of New York abstract expressionists but also by the desire to integrate varied media that evoked both lyrical abstraction and symbolic representation.

CoLabART • Lynn Small + Dennis Paul
Forever Wild Series
Sunset on the Marsh 1989-1994
Mixed-media on Canvas and Panel
36"H x 48"W


Lynn Small is an art honors graduate of The High School of Music and Art, NYC [now known as the LaGuardia High School of Music & Art and Performing Arts—the first school in the nation [1936] to provide a free, publicly-funded program for students gifted in the arts. It has been replicated in most major cities and has earned an international reputation for excellence. As a Dean's List student at New York University, majoring in painting with a minor in film theory, she studied with such renowned painters of the second-generation Abstract Expressionist school as Milton Resnick, Esteban Vicente, Hale Woodruff, John Opper, and Robert Kaupelis as well as the legendary art historian, Irving Sandler and film critic and theorist, Andrew Sarris and John Gassner respectively.
In the early 1970s, while living and working in Spain, Lynn began work on the Earth Stains Series and had a solo exhibition at the United States Embassy, USIA Cultural Center in Madrid. This has been an ongoing body of work that has evolved into many sub-series and the collaborative Earth Series as well as the multimedia installation projects—Earth Elegies. In the mid 1970s, she began a series of anthropological, God-like imagery while her artist husband, Dennis Paul and she lived in Cuernavaca, Mexico. Some twenty years later, this major body of work would inspire the current Southwest Spirit Guides Series.

Shortly thereafter, she received the prestigious Yaddo Residency Fellowship in painting where a collaboration began with her husband, Dennis Paul of layering the photographic and painterly into a seamless fusion of nude, landscape and Kabbalah imagery that now includes the digital realm of photography, video and SoundScapes that accompany their multimedia, immersive site-specific installations in collaboration with other visual and performing artists, musicians and writers. CoLabART, the third artist, reflects the changes in the making of marks and the creation of 21st-century art practices.

The Earth Stains paintings and works on paper have evolved into the series—Golden Light and Shimmering Light—part of the individual and collaborative California Coastal UpLift project and in the fall of 2003 while again the receipient of a Yaddo Residency Fellowship, the series Autumn Light began. The artist has been a finalist for the prestigious Gottlieb Foundation Grant in 2004, 2011, 2013 and 2015.

Ms. Small has lived and exhibited in New York, Europe, Mexico, San Francisco, and Los Angeles. Her work has been shown in numerous gallery and museum exhibitions. She has lectured at the Museum of the City of Mexico, the Art Institute of Chicago and the Brooks Institute of Photography, Santa Barbara, California among others and has received various grants, awards and commissions. Lynn's work is represented in public and private collections both in the United States and abroad.
---
---




Also in Power Point Presention
with Media Components

---

C o L a b A R T



1978 — PRESENT



©1993-2023 CoLabART • D. Paul/Small - Lynn Small + Dennis Paul
All rights reserved.