A Strange Kind of Love
50th-Year
Commemorative Project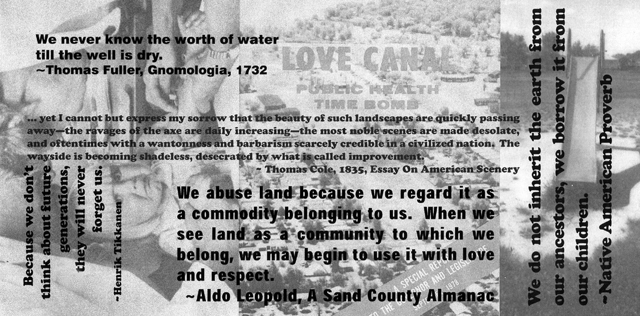 The Future of Nations – Part III
Citizen Artists Making Emphatic Arguments
Exhibition Handout — see below

INTRODUCTION

Love Canal 50th Anniversary Project
Sites Across America

A number of Demonstration Methodological Sites will produce a best practices online workbook for communities
experiencing any sort of disaster or trauma to follow
and an evolving online presence will be developed
along with accompanying documentation of community efforts
and related contacts.

A CultureCures manual for communities to utilize the arts to rapidily respond to all kinds of trauma incidents
will evolve to facilitate replication and provide a quick response for recovery and healing.

Numerous recent research findings have found that the arts produce healing,
promote recovery and impact individual/community well-being.

We believe that future economic research will demonstrate that the cost savings to health care
may possible prove to be even greater than the arts sectors impact [ROI=10-16X].

Prototype Sites
Partial List
Other sites will, unfortunately, evolve over time

Project Promotionals:
WORLD ART DAY_April 15th 2018
Project Announcement
EARTH DAY April 22nd 2018
A Strange Kind of Love
A Strange Kind of Love

Our Facebook group to keep informed
"NOT ALONE"

Communities Unified Recovery Emergency Services
TREE of LIFE
Meditative Garden
+
Healing Labyrith

To believe a thing impossible is to make it so.
–French Proverb

EARLIER HISTORICAL PAGES

1978
LOVE CANAL
BluePrint For A Disaster Portfolio

BluePrint for a Disaster
Narrative
A Quarter of a Century Later
September 11th, 2003

EARTHLY SINS, STRANGE LOVE
EARTH ELEGIES V

A WorldWide Environmental Confession
In Commemoration of the
Thirtieth Anniversary of
Love Canal

ABOVE–EXHIBITION HANDOUT
Front
Printed In both English + Spanish
for the Environmental Exhibition
Curated by Adolfo V. Nodal

The Future of Nations – Part III
Citizen Artists Making Emphatic Arguments
18th Street Arts Center 2008
Santa Monica CA

July 12th—September 13th 2008
+
Inaugural Exhibition
La Casa del Tunel
Tijuna, Mexico

October 2008
---

C o L a b A R T



1978 — PRESENT



Everything is two things that converge.
This range of convergence is really the great area of speculation.
—Robert Smithson


---

©1993-2023 CoLabART • D. Paul/Small—Lynn Small + Dennis Paul
All rights reserved.