Digital Diary - Moments in Time
YADDO RETURN - Fall 2003

Voice of the Landscape: Earth Elegies III
A PALIMPSEST OF TIME AND PLACE

PROJECT STATEMENT

Lynn Small + Dennis Paul
in collaboration
D. PAUL/SMALL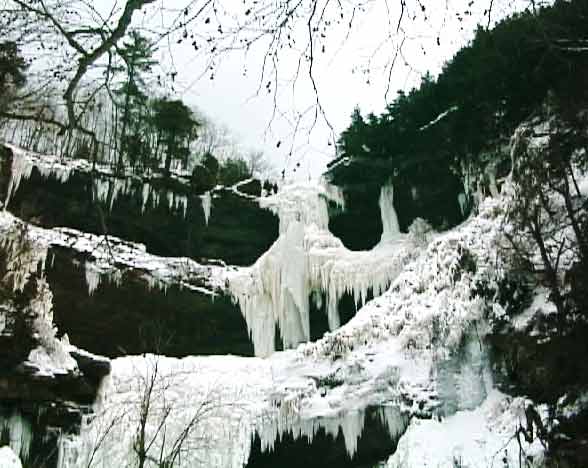 The waterfall…
at once presents to the mind the beautiful,
but apparently incongruous idea,
of fixedness and motion - a single existence
in which we perceive unceasing change
and everlasting duration.
The waterfall may be called
the voice of the landscape,
for, unlike the rocks and woods
which offer sounds as the passive instruments
played upon by the elements,
the waterfall strikes its own chords,
and rocks and mountains re-echo in rich unison…

THOMAS COLE - from one of his notebooks
The Voice of the Landscape project draws inspiration from Kaaterskill Falls,
the Hudson River Valley and the first public lands set aside
for future generations - the Catskill Preserve in New York State.
Since the early 19th century, this area has served as a wellspring for
America's earliest creative efforts that included
painting, literature, philosophy, and environmentalism.

A major piece that has been stimulated by early America's creative voice
and our desire to transform the "sense of place" landscape tradition,
Voice of the Landscape is a multi-channel, mixed media installation.
In development for some time, Voice's progress has often waited
and subsequently been enhanced by changing technologies.
From its inception, it has always been our desire to seek
a new hybridity of expression that speaks to our times
creating a truly transformative experience.

During our Fall 2003 joint-residency fellowships to Yaddo, in Saratoga Springs, NY
the project was greatly enhanced by utilizing the facilities at Skidmore College's
Media Technology Center and the Manuscript and Special Collections Division
of the New York State Library, Albany.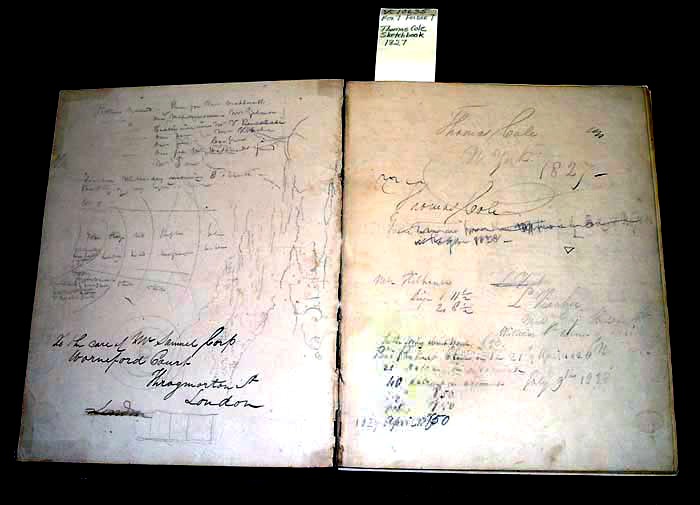 We wish to express our appreciation for their assistance
as well as thanks to all those at Yaddo - where CoLabART
was birthed during our first joint-residency fellowships in 1978.

Much as photography, film and video have changed the fixed images of painting,
the digital domain has radically and forever altered the making of marks.
This new palette of tools extends the parameters of imagination and enables us
to create a dialogue among the visual arts, literature, the inspiring sounds of nature,
and the experiential world in the making.

It weaves a thread through time past, present and future
creating a tapestry with digital SoundScapes, video and stills
with the more traditional 19th & 20th century art-making practices
of painting, drawing, and photography.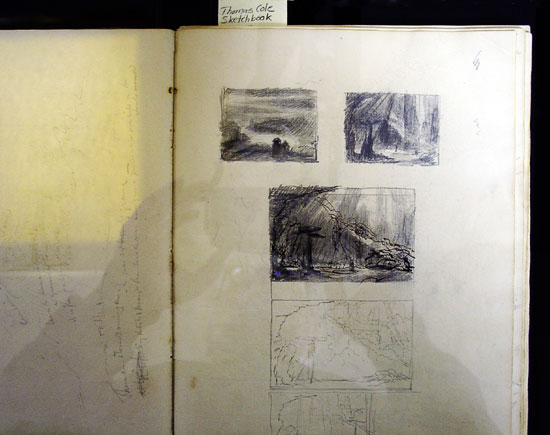 In fusing these worlds with the digital realm, we endeavor to create a viable model
for future cross-disciplinary studies, suggest a pathway for the display
of museum manuscript collections and a pointer to 21-century art.
Larger File - Longer Download - Has Effects/Transitions
Faster - Without Effects/Transitions
WebClip [42 seconds]
PLEASE NOTE:

No single-channel video can adequately demonstrate the immersive quality of this multimedia installation. Our original SoundScape is a holosonic sound field and the installation space that encompasses the environment will have multiple wall and floor projections playing simultaneously with additional feeds to LED/Plasma monitors.We hope to demonstrate the possibilities inherent in new projection systems and the interdisciplinary learning aspects of digital media modalities.

Four-Channel [7 minutes]

Concept [7 minutes]