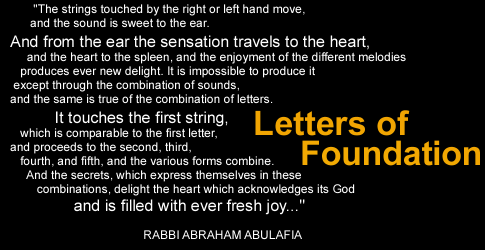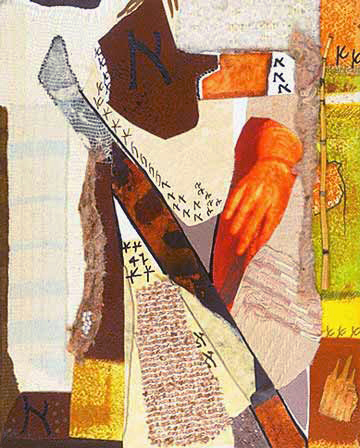 ALEPH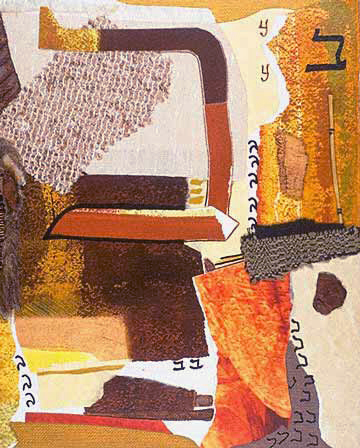 BET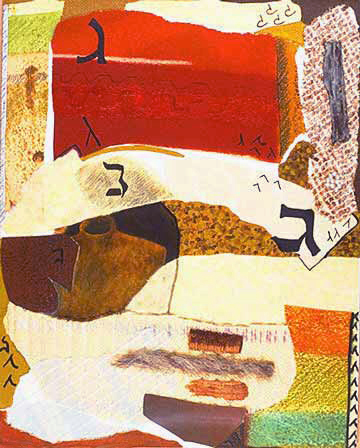 GIMEL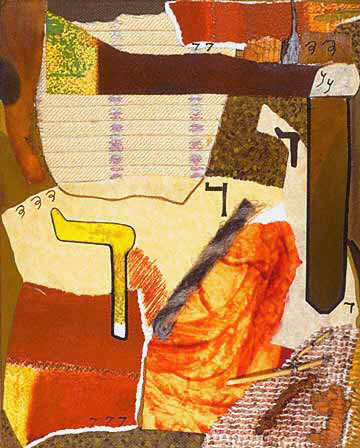 DALED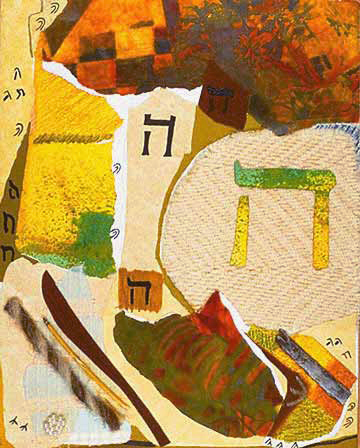 HEH
Lynn Small and Dennis Paul pay tribute to an Israeli weaver
by interpreting the letters of the cabala with mixed media collages
for each letter...
—Nancy Kapitanoff
Los Angeles Times
November 11, 1994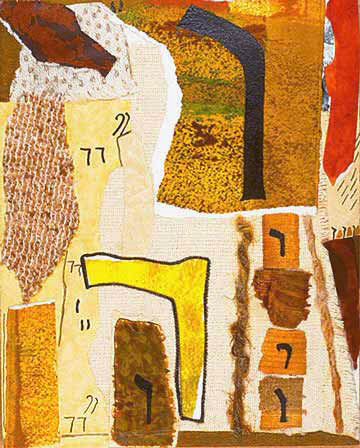 VAV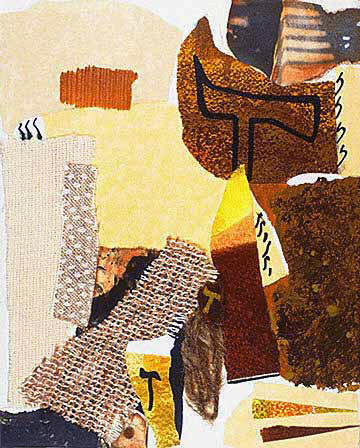 ZAYIN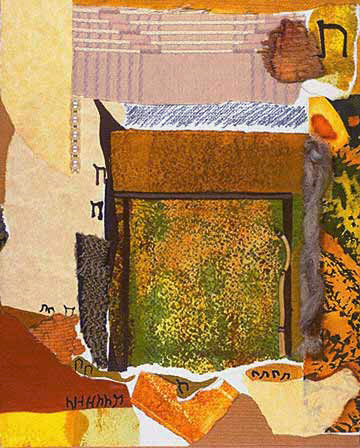 HET

TET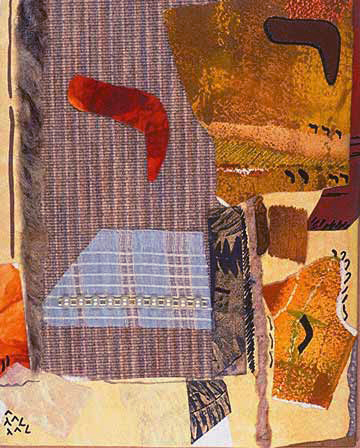 YUD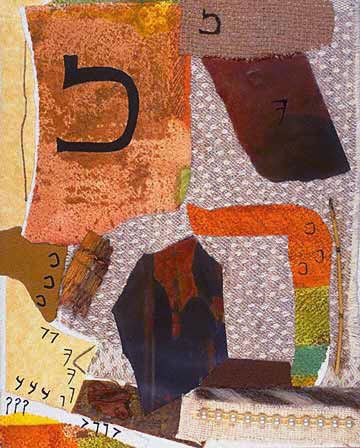 KAF
IF GOD UTTERED WORDS TO CREATE THE universe, it's not surprising that two L.A. artists are using the Hebrew alphabet as inspiration for their own work. The project by Dennis Paul and his wife, artist Lynn Small...the goal is to weave ancient symbols into modern metaphors...and possibly, glimpses of the divine.
—MYSTIC LETTERS
by Eric Roth
Contributing Writer
Jewish Journal
January 5, 2001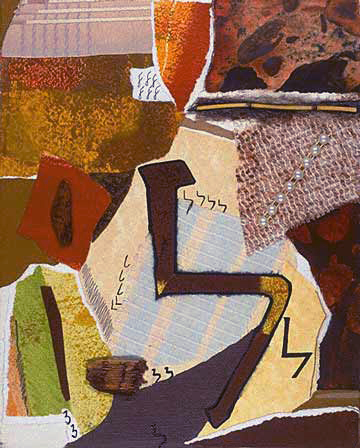 LAMED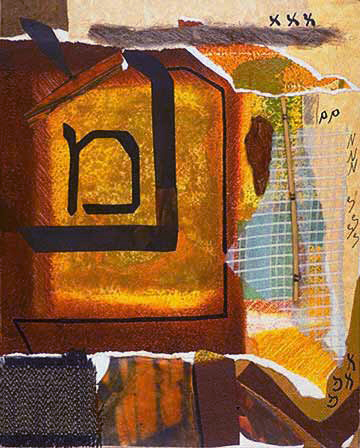 MEM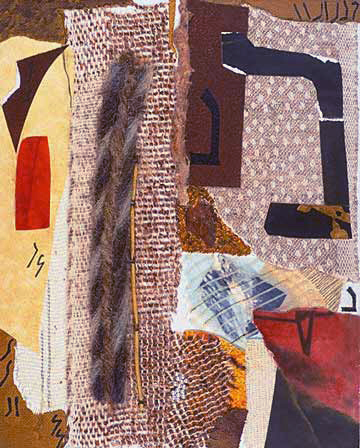 NUN

SAMECH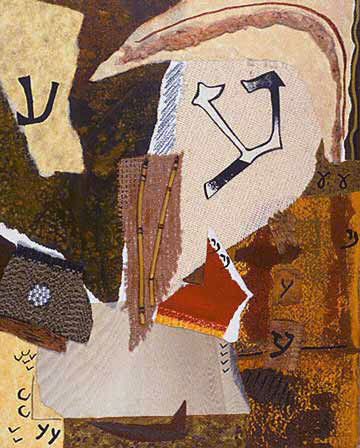 AYIN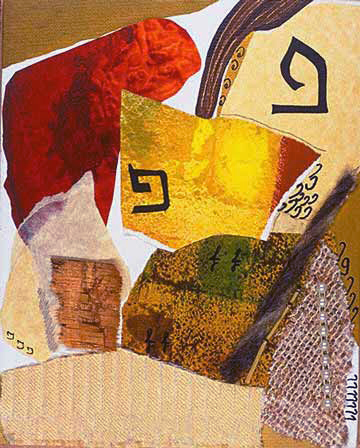 PEH
...today even more innovative niches have been created by such artists as Americans Dennis Paul and Lynn Small.
Here, the artists interpret the ancient Hebrew alphabet as analogous to the building blocks of the universe...
Accordingly, they have created an artistic interpretation for every Hebrew letter...a strong spiritual element pervades.

—Leslie Cohen
FORWARD
May 11, 2001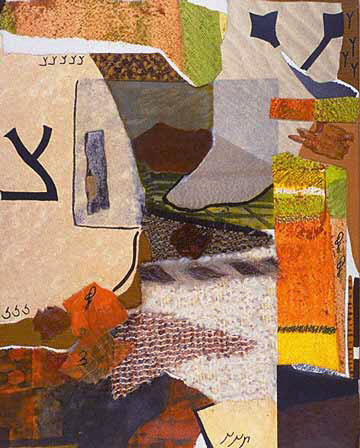 TSADI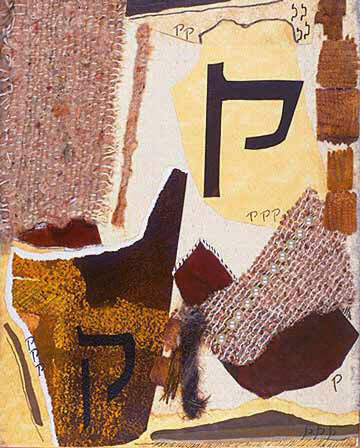 KUF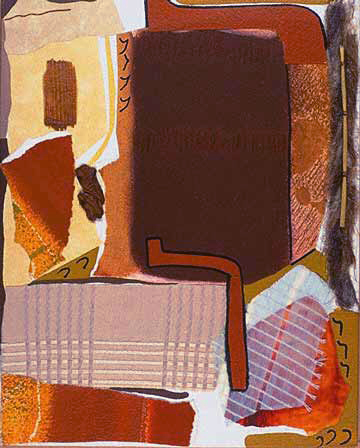 RESH

SHIN

TAF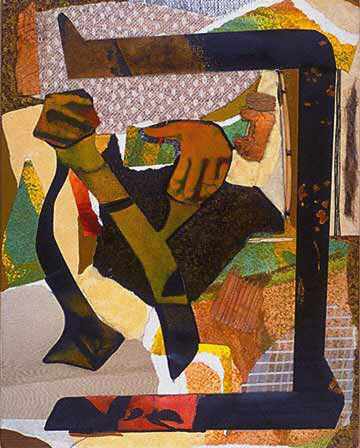 ALEPHBET
FACE PLATE
PEARLS OF WISDOM
END PLATE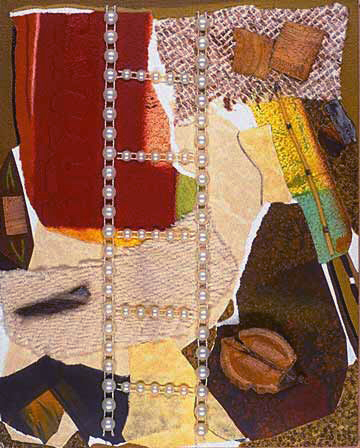 Every letter is a whole world
—Dov Baer, Maggid of Mezeritch

FRAMED ALEPH

Paper size - 10 " H x 8" W; Frame size - 11 3/4 " x 9 3/4 "
Signed on recto and verso
$ 150 + $ 20 shipping/handling

So for that Bat/Bar Mitzvah, Birth, Wedding or just because, give the gift of affordable art

Purchase a Letter


Life beats down and crushes the soul. Art reminds you that you have one.
- Stella Adler



A complete deluxe boxed set is also available for purchase
Tradition and Transformation
The Art of the Alef-Bet
To Inquire about the boxed set
or
a discount for 2 or more individual Letters or Words - email

or use contact information below

Torah, Todah, Chai, Shalom, etc.
Joy
S h i n + M e m + H e t + H e h
THE STORY OF THE CREATION OF LETTERS OF FOUNDATION



SELECTED EXHIBITIONS + LECTURES + ARTIST TALKS
EXHIBITIONS:
Jewish Magic: Folklore and Fantasy, Jewish Community Center of San Francisco, CA
The Art of the Aleph-Bet, Art + Interactive AlephBet Computer Project, Bureau of Jewish Education, San Francisco, CA
Elements, In The Beginning - Municipal Art Gallery, Barnsdall Art Park, Multimedia Installation, Los Angeles, CA
Dialogues With The Deity, Solo Exhibition, ARTOPIA Gallery, Los Angeles, CA
Spiritual Matter in Contemporary Art, Artist Installation and Dialogue, Platt Gallery, American Jewish University, Los Angeles, CA
Aishet Hayil/Woman of Valor, Multimedia Installation Commission, Yeshiva University Museum, NYC
Angels, Ancestors and Spirit Guides, MYTHOS Gallery, Los Angeles, CA

ARTIST TALKS/LECTURES:
Yeshiva University Museum, NYC Docent staff, Woman of Valor Exhibition
American Jewish University, Los Angeles, The Threads that Bind Us – Earth Elegies I
Artopia Gallery, Los Angeles, Dialogues with the Deity
Barnsdall Art Park – ELEMENTS, Los Angeles Municipal Art Gallery, In the Beginning – Earth Elegies II
Los Angeles Judaica Collectors Club, The Kabbalah Series
University Women, American Jewish University, Bell Gallery, Los Angeles, The Kabbalah Series
Brooks Institute of Photography, Santa Barbara, CA, The Making of Marks: Art, Technology and Philosophy in the Digital Age

Lynn Small + Dennis Paul

888.viewart
info@viewart.com
Skype • CoLabART

©1993-2023 — CoLabART - D. Paul/Small
All rights reserved