D e n n i s P a u l
A CREATIVE LIFE

Moments In Time

In the end it's not going to matter how many breaths you took,
But how many moments took your breath away.
—Shing Xiong
12:34 PM
5.6.78
At Work — At Home
Department of Cultural Affairs
New York City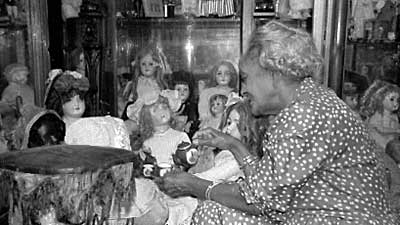 Aunt Lens Doll & Toy Museum


It was a strange time for NYC
as it was approaching bankrupcy

and I was still part of the Department's
'Museum Task Force Group'
formed to assist the overwhelming number of institutions
that were not part of the small group of city-funded museums.




I working at home that day
as I did not yet have my own office
and needed quiet to think/work.


This was just prior to my
creating the Department's Development Office,
one of the earliest arts economic development efforts in the country
and the first within a separate NYC municipal department.

The City did have an Office of Economic Development
however culture was not yet viewed
as the significant economic engine that it is today.

| | |
| --- | --- |
| Lenon Hoyte, a retired public school teacher, had amassed one of the most extensive and varied private collections in the county. Gingerly walking through her Hamilton Heights Harlem brownstone was truly amazing. | It was a 3-story labyrinth of dolls and toys crammed into every nook and cranny—not an inch was spared as her collection had both great depth and width. Especially notable was her extensive black component. However, it was the overall quality and vast array that left one almost dazed. |

I had silkscreened a photograph of Lennon for the cover of a packet of Museum materials

I was putting together for a Board recruitment effort.

| | |
| --- | --- |
| I had been forewarned by other arts administrators that had attempted to tackle this tangled institution but was determined to find a way to a least make some small contribution to this truly unique Museum. | In the end, sadly, I was only able to build a Board of Directors, get approval from the NYC Board of Education to have class visits once a spacious apartment building basement room was rented across the street and make Lennon aware of the oncoming perils should necessasry Museum developments remain unaddressed. |


Organizational Birther/Founders are often problematic
and I could not get her to see further into the future,
truly let others in or create a succession plan





Her dream to make a museum for the children of Harlem was realized for a while
(1974 - 1994) and I was happy to be a small part of its maturation.


However, I was greatly saddened when my worst fears were realized upon her passing.



Her unique vision and this treasured institution ceased to be
and her privately-held collection was dispersed


< Back To Moments In Time <

PUT LINKS HERE

---

---

DENNIS PAUL — A LIFE IN CULTURE


First Morning, Yaddo - 2003

1969 — PRESENT

[PDF]

---

©1993-2021 — Dennis Paul — All rights reserved.


---

---





1978 — PRESENT



S I T E
L I N K S

In my thought one doesn't replace the past,
one only adds a new link to it.
—Paul Cezanne

©1993-2021 CoLabART • D. Paul/Small - Lynn Small + Dennis Paul
All rights reserved.